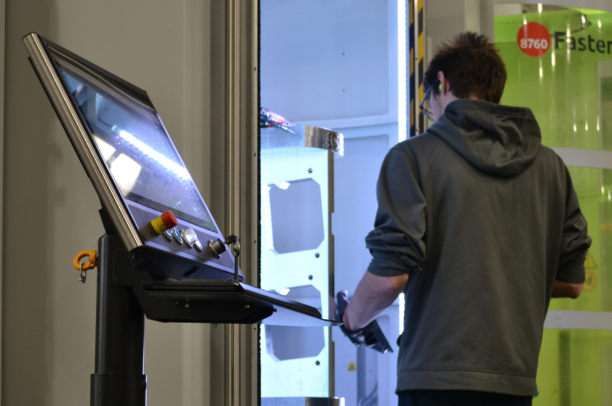 Hirsh Precision's Investment in Technology allows Customer to consolidate Supply Chain
| | |
| --- | --- |
| Customer's Industry | Automotive |
Manufacturing Services Utilized

Manufacturability Feedback

Precision Machining
| | |
| --- | --- |
| Challenge | Our customer wanted to make a longer-lasting product that was safer to use in the field |
| | |
| --- | --- |
| Solution | We employed our "invest ahead" mindset, manufacturability feedback, and machining technology to extend the product's life and enhance safety |
Key Benefits

Cost and time savings

Enhanced safety

Consolidated supply chain
Original Equipment Manufacturers (OEMs) are streamlining their supply chains from many suppliers to a capable few. Consolidating a supply chain is easier said than done, but these efforts result in cost and time savings, as well as reduced risks and volatility in a supply chain.
As OEMs select best-fit suppliers for their consolidated supply chains, suppliers need to proactively invest in their capabilities, versatility, and technology if they want to make the cut and support their customers effectively.
In recent years, we used our multi-faceted capabilities and technology investments that solved a problem with our customer's part and allowed them to consolidate from multiple suppliers to just one.
The Customer's Problem
*for confidentiality reasons, we do not name our customers in our case studies
Our customer has sourced an interconnect device, which allows the end user to pressurize an enclosure to test for possible leakage, through multiple suppliers for many years. Despite undergoing multiple process changes, the product's original two-piece design is subject to a higher rate of wear and tear in the field application, making the interconnect device less secure under high pressure.
Long-term, our customer wanted to reduce the failure rate and potential safety risk, but they were limited with their current supply chain's manufacturing capabilities.
The Hirsh Solution
In 2017, Hirsh procured a new CNC mill-turn machine to expand our capacity and capabilities. Once we understood the extent of this machine's versatility, we looked for new ways to support our customers, and the two-piece interconnect device was the perfect opportunity.
After collaborating with our customer to develop a one-piece design, we proposed using our mill-turn machine to produce this device, and successfully ran production parts according to the new design.
Customer Benefits
In addition to eliminating the part's two-piece design, and consequently improving the product's life and enhancing its safety, our customer consolidated this part's supply chain from multiple suppliers to just one.
Providing our customer with manufacturability feedback and the machining technology needed to produce this component meant they could rely on Hirsh as this part's sole supplier, which secured several key benefits:
Eliminating unnecessary suppliers
Lowering inventory costs
Reducing the time and effort needed to procure this component
Conclusion
Hirsh has a long history of investing in machining technology to stay ahead of our customers' needs. For example, our team recently commissioned a new CNC machine to service a quick-turn Design of Experiment (DOE) for an aerospace OEM customer in less than 6 weeks.
Additionally, we invested in numerous machines in the last two years, including 5 new multi-axis mills, a MULTUS B250-II, and a Fastems FPC system.
While most suppliers are willing to support their OEM customers, only a few are proactively investing to do so. If you are searching for a new partner with an invest-ahead mindset to support your project launches, meet your production needs, and allow you to consolidate your supply chain, contact Hirsh Precision.